Our family loves reading and we love books so today while I was searching the internet for inspiration for play spaces throughout the home, I came across this blog/site:
My Little Bookcase
and because this year is the national year of reading for Australia, they have decided to focus on families reading together no matter what age and have put together a few challenges to do every month.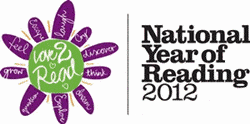 The Little Book Adventure
began in March, but I only found out about it today so I'm still going to complete all the tasks with my family I just have to catch up a bit. I love reading with Pickle even before he was born I used to read to him. So I thought this challenge was perfect for us! If this sounds like something that you want to do with your family then you can sign up
here
. Hope you're all having a great weekend :)
P.S: Eurovision song contest semi final 2 tonight! lol...