I am always trying to organise and clean my home, I find that being organised makes me feel positive and on top of things. The only thing is... I have trouble staying on top of everything and I don't want to be wasting valuable time cleaning and organising. So that's why I have joined up to The Organised Housewife's 20 Days to Organise and Clean your Home Challenge.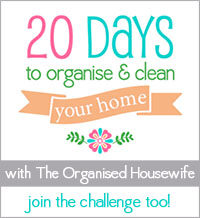 This challenge doesn't actually start until Monday the 3rd of September, but there are pre-challenge tasks to complete beforehand.
There is also no pressure to complete the tasks within the time frame, as I probably won't but I will still being giving it a go at my own pace. That's what I find really attractive about this challenge, it's flexible for you to alter as you need to.
If you would like to join then check out
The Organised Housewife
blog to sign up and get updated on all the info.