When I started the main tasks of this challenge I was just a few days off giving birth, so I only managed to do the first few days of the challenge and since actually giving birth and coming home and settling back into everyday life, I have fallen behind.
So by the time we are all on track again the house is back to it's pre-challenge state, so I've decided to start over from the beginning!
I'm happily up to date with the pre-challenge tasks, and here they are:
Pre-Challenge Task 1: Putting a folder together
Pre-Challenge Task 2: Creating a cleaning kit
Pre-Challenge Task 3: Create a morning routine
6am - Up! Baby's morning routine
6:30

-

Shower and get myself ready for the day
7am

-

Pickle boy up and he starts his morning routine



- Make lunches
- Get breakfast ready
7:30am

-

Check emails, diary, to-do list, calendar etc.
8am

-

DF's morning routine
-Breakfast
8:30am

-

Tidy breakfast mess, put yesterdays dishes away, wipe bench, sink and table
- DF leaves for work (Goodbye Dad!)
- Put washing on
- Tidy bathroom and wipe vanity
- Make beds
10am

-

Our day begins with Pickle boys learning routine, an activity, housework, or a walk (shops, library, park, appointments, playgroup etc.)
(It doesn't always run this smoothly, but I like to try and get everything done in this time frame so that I can get on with the rest of the day without thinking about all this stuff!)

Pre-Challenge Task 4: Create a evening routine
5pm - Pickle boy starts his evening routine
- Jellybeans bath time routine
- Quick tidy
5:30pm - Start Dinner
- Dad's Home!

6:30pm

-

Tidy dinner mess, wipe bench, sink and table
7pm

-

Check emails, blog posts, tidy office
- TV, crafts, or read
-
Clothes ready for next day
(this helps when I get up earlier than my DF or Jellybean because I can just grab my pile of clothes without making a noise with the drawers etc.)
8-8:30pm

-

Pickle boys bedtime
- Jellybeans evening routine and bedtime
Pre-Challenge Task 5: Goals
I want to feel
ORGANISED
while I'm at home
I want to spend more time
CREATING ART & FUN WITH MY KIDS
I want an area of the home where I can
RELAX
I want to organise
MY WHOLE HOUSE
Something I don't need anymore, but having trouble parting with:
PICKLE BOYS BABY CLOTHES & OLD ART SUPPLIES
If like me you need your house to be organised and cleaned then it's not too late to start the challenge you can find out all about it over at
The Organised Housewife
blog :)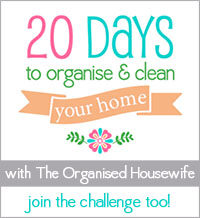 I will be updating my progress weekly too :)